Genre: New Adult, Romance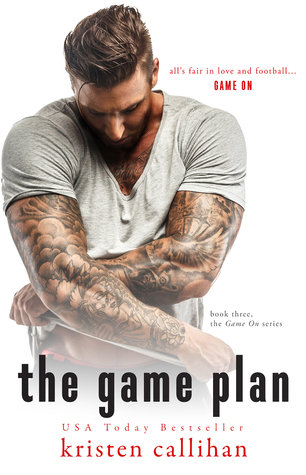 Blurb:
A beard-related dare and one hot-as-hell kiss changes everything.
NFL center Ethan Dexter's focus has always been on playing football and little else. Except when it comes to one particular woman. The lovely Fiona Mackenzie might not care about his fame, but she's also never looked at him as anything more than one of her brother-in-law's best friend. That ends now.
Fi doesn't know what to make of Dex. The bearded, tattooed, mountain of man-muscle looks more like a biker than a football player. Rumor has it he's a virgin, but she finds that hard to believe. Because from the moment he decides to turn his quiet intensity on her she's left weak at the knees and aching to see his famous control fully unleashed.
Dex is looking for a forever girl, but they live vastly different lives in separate cities. Fi ought to guard her heart and walk away. But Dex has upped his game and is using all his considerable charm to convince Fi he's her forever man.
Game On
Review:
I really really loved the first book in this series, The Hook Up, so when I heard that there was a new book out, and people were raving about the 3rd book, and saying that they loved it even more than they loved the first book, I was really excited to get my hands on this one. My expectations were very high.
However, let me put it out that I read this book during one of my reading funks. It's that time when avid readers like me, just don't feel like reading anything at all. It's like suddenly losing that crazy book appetite that I usually had, and given all the hype I thought that this was just the book to bring me out of my funk. Sadly, it didn't resolve my book funk problems, I guess it was too much to ask, but I did enjoy the book.
Ethan Dexter, our NFL star, has always had a crush on his friend's sister-in-law, Fiona MacKenzie. He's always admired her from afar but has not made any move to show this. Years after college, Ethan and Fiona happened to be both visiting Ivy and Gray (Characters from Book 2) at the same time. They get re-acquainted with each other and this time, Ethan Dexter is making his move. What follows is a really hot courtship between the two.
Ethan was such a hunky dream-hero. He even gets adorable points for helping to take care of Gray and Ivy's baby. Fiona, is still finding her way in the world. She is pressured by the successes of her family and wants to be known in her chosen field as well. I really like how Ethan wasn't really Fiona's typical type. Since it is a known fact that Ethan is a virgin, he's the one who doesn't want to have just a one-night stand. He wants to have a relationship and not just a casual fling. Fiona, is the one who is hesitant, given that they are both based in different places, with different jobs. When Ethan makes himself known to Fiona, his charming ways grow on her and they decide to take the leap.
Being based in different places, the new couple will have to struggle with maintaining a long distance relationship, while still living their chosen lifestyles. I liked how they seemed to understand each other and always make time for each other. There wasn't any of those "You don't have enough time me" fights or jealousy misunderstandings that are common in the long distance relationship trope. Here, we find a couple who is just really happy to have the time to see each other and make the most out of that time. Still, life throws some challenges in the way, and it was really nice to see this couple grow into their relationship and support each other all the way.
Definitely a must-read for fans of the series.
Rating: 3 stars